Plumbing and Mechanical Piping
Typically used as a free standing/non-penetrating pipe support stand for natural gas piping installed on single ply and built-up roofs; the roller cradles the piping, while protecting the roof membrane and allowing it the freedom of movement necessary due to thermal expansion. The adjustable rod assembly permits piping to be installed level on tapered roofs.
---
Models for Pipes Sizes - ½" through 10" IPS
All Stainless Steel Hardware.
UV Protected Nylon or Stainless Steel Base
Vertically Adjustable ranges from 3"-18"; Fixed height models available.
UV Protected SBR Rubber Roller with nylon bushing assembly and stainless steel shaft and hardware
Free Standing or Structurally Attached
Designed and manufactured in compliance with the International Fuel Gas Code, MSS SP-58-2002, MSS SP-69-2002 and MSS SP-127-2001where applicable for structural support systems.
---
Structural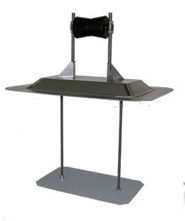 Example: MX-5RA9-SA
Structurally Attached Roller Support:
The Structurally Attached Support Series provides a manufactured support designed to secure single piping systems on single ply or built-up roofs in areas where seismic or high wind zones are of concern and where structural design allows for system loads at attachment points.

Available with 5", 8" and 10" Roller.
Allows for fewer disturbances to the roof membrane by minimizing the overall flashed area of the installation.
Where project design allows, free standing supports may be used in conjunction with structurally attached supports.
For increased loading:
Under deck structural support or reinforcement of roof insulation should be considered.
Where Structural Blocking is Utilized:
Load is transferred directly to the structure; thereby increasing the allowable load, as approved by the structural engineer, any increased loading should not exceed 500 lbs.
Related Accessories
Walk Pads

Material: 100% Recycled Black Rubber Surface: Flat smooth
Back Side: Wire mesh texture, anti-skid sur- face.
Weight 3 lbs. per square foot. Sizes: Varies by support.
Model Numbers
Maximum pipe size based upon load and spacing calculations for usual and customary pipe sizes.
Weight limits are established by the contact area of the support to roof surface; with a maximum load per square inch of 5 lbs.
SA (Structurally Attached Supports) where structural blocking is utilized; load is transferred directly to the structure; thereby increasing the allowable load, as approved by the structural engineer, any increased loading should not exceed 250 lbs.
Standard Duty Supports are manufactured with an optional 2mm black Neoprene Support Pad.
Where installation height exceeds 12" refer to MAPA Products "Recommended Installation Guidelines"
Downloads
Engineering and Submittal