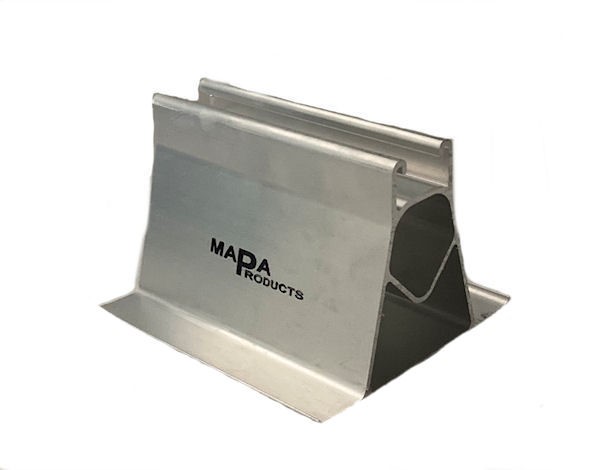 Strut Supports for Electrical Conduit and Refrigeration Lines
A-Series supports are manufactured as an extruded aluminum base with integrated 1 5/8" shallow strut available in lengths from 6 inches up to 120 inches.
---
Features:
Made in the USA
100% recyclable material
Simple time saving installation
Extruded aluminum design
Pre-cut 6" up to 4'
Solid flat base with rolled edges
Integrated 1 5/8" Strut
Accepts industry standard accessories
Single/multiple piping runs
Equipment supports
Load factor of 5 PSI
Available with adhered isolation pad
Limited Lifetime Warranty
Patent Pending
---
Used within the recommended load limits, the A-Series is designed as a free standing/non-penetrating pipe support stand for applications including natural gas, conduit, refrigeration; ductwork, cable trays, solar panel and equipment support.
A-Series supports provide a price conscious alternative that is simple to install, saving time and labor on the project. Integrated shallow strut allows versatility by using any industry standard strut accessory. Simple installation, evenly space the supports within their load rating; for piping provide an additional support within two feet of each change in direction.
Structural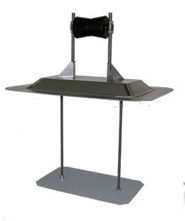 Example: MX-5RA9-SA
Structurally Attached Roller Support:
The Structurally Attached Support Series provides a manufactured support designed to secure single piping systems on single ply or built-up roofs in areas where seismic or high wind zones are of concern and where structural design allows for system loads at attachment points.

Available with 5", 8" and 10" Roller.
Allows for fewer disturbances to the roof membrane by minimizing the overall flashed area of the installation.
Where project design allows, free standing supports may be used in conjunction with structurally attached supports.
For increased loading:
Under deck structural support or reinforcement of roof insulation should be considered.
Where Structural Blocking is Utilized:
Load is transferred directly to the structure; thereby increasing the allowable load, as approved by the structural engineer, any increased loading should not exceed 500 lbs.
Related Accessories
Walk Pads

Material: 100% Recycled Black Rubber Surface: Flat smooth
Back Side: Wire mesh texture, anti-skid sur- face.
Weight 3 lbs. per square foot. Sizes: Varies by support.
Snap-N-Strut
Snap-N-Strut Clamps are UL listed nylon clamps for strut applications.
The design of the Snap-N-Strut Clamps makes them the perfect accessory to MAPA Products Nylon and Stainless Strut Supports and Bridging Systems.
Model Numbers
Maximum pipe size based upon load and spacing calculations for usual and customary pipe sizes.
Weight limits are established by the contact area of the support to roof surface; with a maximum load per square inch of 5 lbs.
SA (Structurally Attached Supports) where structural blocking is utilized; load is transferred directly to the structure; thereby increasing the allowable load, as approved by the structural engineer, any increased loading should not exceed 250 lbs.
Standard Duty Supports are manufactured with an optional 2mm black Neoprene Support Pad.
Where installation height exceeds 12" refer to MAPA Products "Recommended Installation Guidelines"
Downloads
Sales and Ordering
Installation and Maintenance
Engineering and Submittal