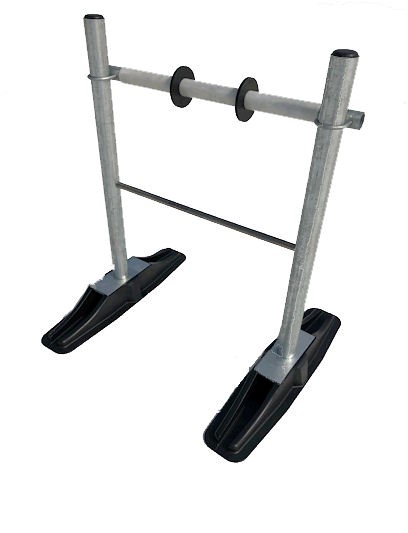 Big Roller Pipe Support for all piping applications
Big Roller Support is fully assembled that ships flat by rotating the bases. Support beam is anchored by included U-Bolts to provide a stable mount for a variety of piping applications. Used within the recommended load limits, the Big Roller Support is designed for large diameter pipes that will allow for thermal expansion and contraction of the piping system. Included spacers will prevent the pipe from moving laterally causing disruption to the overall piping system. Big Roller supports provide a price conscious alternative that is simple to install while saving time and labor on the project.
---
Features:
Made in the USA
Ships Flat and assembled
Adjustable
Spacers to prevent lateral movement
24" long bases to prevent tipping
Heavy Duty Galvanized pipe support frame
Rollers allow for Thermal Expansion
Single/multiple piping runs
Available with Heavy Duty Walk Pad
Limited Lifetime Warranty
---
Simple installation, evenly space the supports within their load rating; for piping provide an additional support within two feet of each change in direction.
| | | | | | |
| --- | --- | --- | --- | --- | --- |
| Compressive Strength | 2 lb/in² | 5 lb/in² | 10 lb/in² | 15 lb/in² | 20 lb/in² |
| Support Maximum Load | 250 lbs | 625 lbs | 1250 lbs | 1875 lbs | 2500 lbs |
Structural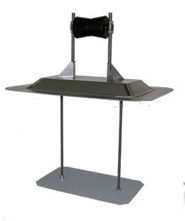 Example: MX-5RA9-SA
Structurally Attached Roller Support:
The Structurally Attached Support Series provides a manufactured support designed to secure single piping systems on single ply or built-up roofs in areas where seismic or high wind zones are of concern and where structural design allows for system loads at attachment points.

Available with 5", 8" and 10" Roller.
Allows for fewer disturbances to the roof membrane by minimizing the overall flashed area of the installation.
Where project design allows, free standing supports may be used in conjunction with structurally attached supports.
For increased loading:
Under deck structural support or reinforcement of roof insulation should be considered.
Where Structural Blocking is Utilized:
Load is transferred directly to the structure; thereby increasing the allowable load, as approved by the structural engineer, any increased loading should not exceed 500 lbs.
Related Accessories
Walk Pads

Material: 100% Recycled Black Rubber Surface: Flat smooth
Back Side: Wire mesh texture, anti-skid sur- face.
Weight 3 lbs. per square foot. Sizes: Varies by support.
Model Numbers
Maximum pipe size based upon load and spacing calculations for usual and customary pipe sizes.
Weight limits are established by the contact area of the support to roof surface; with a maximum load per square inch of 5 lbs.
SA (Structurally Attached Supports) where structural blocking is utilized; load is transferred directly to the structure; thereby increasing the allowable load, as approved by the structural engineer, any increased loading should not exceed 250 lbs.
Standard Duty Supports are manufactured with an optional 2mm black Neoprene Support Pad.
Where installation height exceeds 12" refer to MAPA Products "Recommended Installation Guidelines"
Downloads
Sales and Ordering
Installation and Maintenance
Engineering and Submittal